At Bloom Growth, we take the process very seriously. We have an internal process for just about everything related to our day-to-day operations, and we're constantly optimizing those processes.
We sat down with Gary Vanbutsele, CEO, and Bram Billiet, CPO of the SaaS company Whale to learn about how they're taking process documentation to the next level:
Hello, gentlemen! Let's start by having you tell us a little bit about you and your team. Where are you located?
Gary: Hey! First of all, thanks for having us! Whale is a software startup based in Belgium, Europe. The company was founded 2 years ago by Bram and me, and our team has been expanding ever since. Recently we've closed our seed round with two top-tier European VC's with the goal of growing the team here in Europe and in the US.
Where did the idea for Whale come from? What was your vision?
Gary: A couple of years ago when I was running my first IT company, we were looking to scale the company to the next level but were feeling like our growth had stalled. Looking into EOS, we felt the framework was the perfect solution to get us back on track. And while we loved everything about the system, ironically, we felt the Process was the least documented part of the Traction book (we self-implemented).
So, we did what most companies do. We started documenting in Word and PowerPoint documents, stored them in a Google Drive and hoped that our teams would reference them when needed. After some time, we discovered that those documents were never accessed, and that the Drive became like a graveyard for our processes and procedure documents.
After talking to hundreds of other teams, we learned that most of them faced the same challenge. It's not only hard to start documenting, but it's even harder to get them followed by all. And so began our journey to improve process documentation and training with Whale.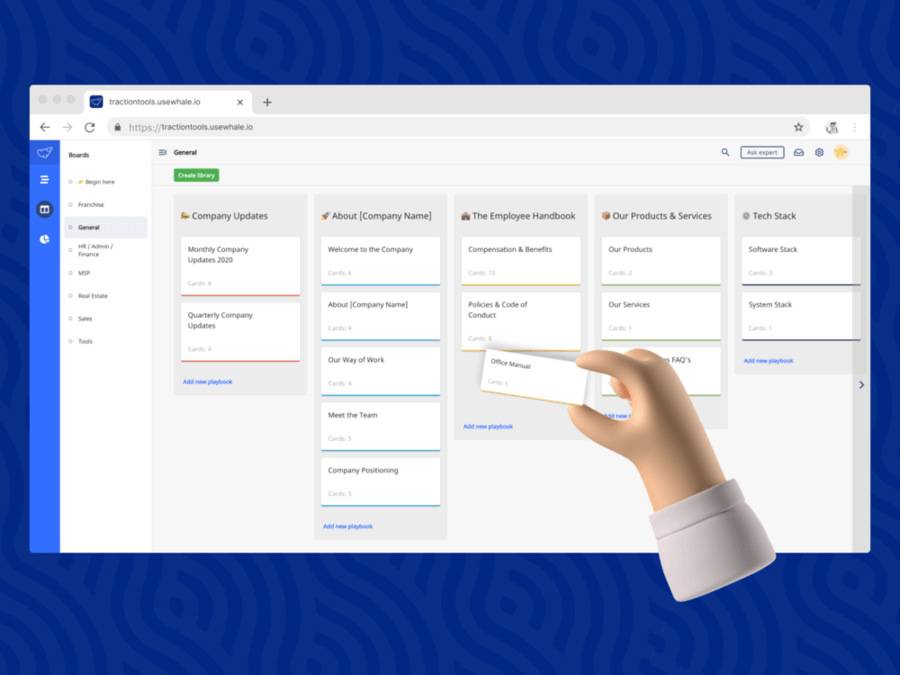 Give us a high-level overview of what Whale is, and why it's so awesome!
Bram: Whale can best be described as a hybrid between process documentation and employee training. Whale's goal is to help companies grow in the most efficient and effective way possible and helps you do so with its 4 core components: create, maintain, share, and measure.
With create, Whale helps you document your processes, procedures and company policies. Our easy-to-use editor helps you create bite-sized dynamic content with text, images, videos and more, so you no longer need to rely on lengthy manuals in binders that no one reads. And with our templates and partner service, you'll reduce your documentation journey from months to days.
Next, the Whale platform serves as a centralized hub where you can maintain all your company knowledge. Because we noticed that a lot of companies let their documentation go stale, our ownership and review system makes sure that your teams can always rely on up-to date content.
Once you have documented your core processes, Whale helps you to share that information, so you can onboard, train and reinforce the right knowledge to the right people. As a manager, the platform allows you to select who should be trained on what, and gives you the ability to track the progress of your learners.
With the measure component, Whale gives you new insights in what processes are working and which need improvement so your company can keep on growing the right way.
So, you know Bloom Growth is meeting software, and we're all about that entrepreneurial lifestyle. How would Whale be compatible with companies running virtual meetings?
Gary: As you know, process is often described as the "secret ingredient" and most crucial component in EOS. Unfortunately, a lot of companies still seem to struggle in really owning this part of the framework. Whale helps in getting every single person on the same page, so that consistency and scalability are at the forefront. Not only does our solution help in creating and maintaining your process documentation, but we also make sure that your teams are properly trained on them, so they are truly followed by all. Together with partners like BG, we're looking to enhance the EOS components through software and automations, so business can focus on achieving their goals.
What are some of the most popular features for Whale customers? What problems are they able to solve using your software?
Gary: One of the biggest challenges companies face when working on process is having everyone follow them. The biggest reason why so many fail at this is because teams often cannot find the relevant information fast enough. It's just easier to ask a colleague, send a chat or, worse, just wing it. If we really want to empower and train our teams, we need a more connected and intelligent approach.
Bram: So, it's no surprise that one of the most popular features in Whale is the ability to share contextual knowledge in the flow of work. By using our browser plugin, you can tie Whale content to the apps your team uses so it gets pushed to them as an overlay when and where they need it. In other words, your teams learn, apply and work with confidence without ever leaving their workflow. 
Anything else you want to tell our blog subscribers and visitors? How can they learn more or sign up?
Companies can request a demo and a 14-day free trial of the Whale platform on our website. And for a limited-time, Whale is offering Bloom Growth clients an exclusive deal—20% off your annual invoice from Whale when you sign-up by February 26, 2021!
EOS Implementers® can request a free plan up to 5 users here.