If you're concerned that your growth strategies aren't yielding the results you want—you're not alone. Many business owners, managers, and leaders seek to implement effective growth strategies and feel defeated when their business isn't meeting or exceeding their goals. So let's talk about what makes an effective
growth strategy
.
A proven growth strategy is essential.
If you turn to Google and search "best business growth strategies," you'll be served a litany of results—market development and disruption, product diversification and development, sales volume, customer acquisition and retention, organic growth, marketing strategy, strategic partnerships—to name a few. These are all elements of proven growth strategies, but many results will miss the most crucial and foundational element of a growth strategy—your people.
Your business grows when your people grow.
An effective business growth strategy is far from simple, but what is simple is understanding and rallying behind the idea that your people are what makes or breaks the strategy you choose. Take for example a Formula 1 racing team—they may have the fastest car on the track, but if their driver lacks the knowledge and experience to complete the race, the odds are that they will lose. The inverse is also true—that an experienced driver with a slower car would likely lose. The key is that your strategy requires both the right tools and right people.
Many businesses land on effective business tools but fail to empower their employees with growth opportunities, tools and training to complete the job, and a clearly defined process to accomplish your business goals. The people that you have on your team now are who will propel or stall your business growth—what are you doing to ensure their success?
Adopt an ecosystem for growth.
Helping your team grow personally and professionally yields positive results for your company—we've seen it firsthand. Professional growth is part of a healthy business ecosystem. A great way to help your people grow is by setting goals. Helping your team achieve their personal goals will aid in accomplishing your business goals, which should be made possible by your growth strategy.
That's part of why Bloom established a proven process—to help boost business growth. Our proven process starts on day one, when you register for your account. Then our team guides you every step of the way, until your business is reaping the benefits of your hard work.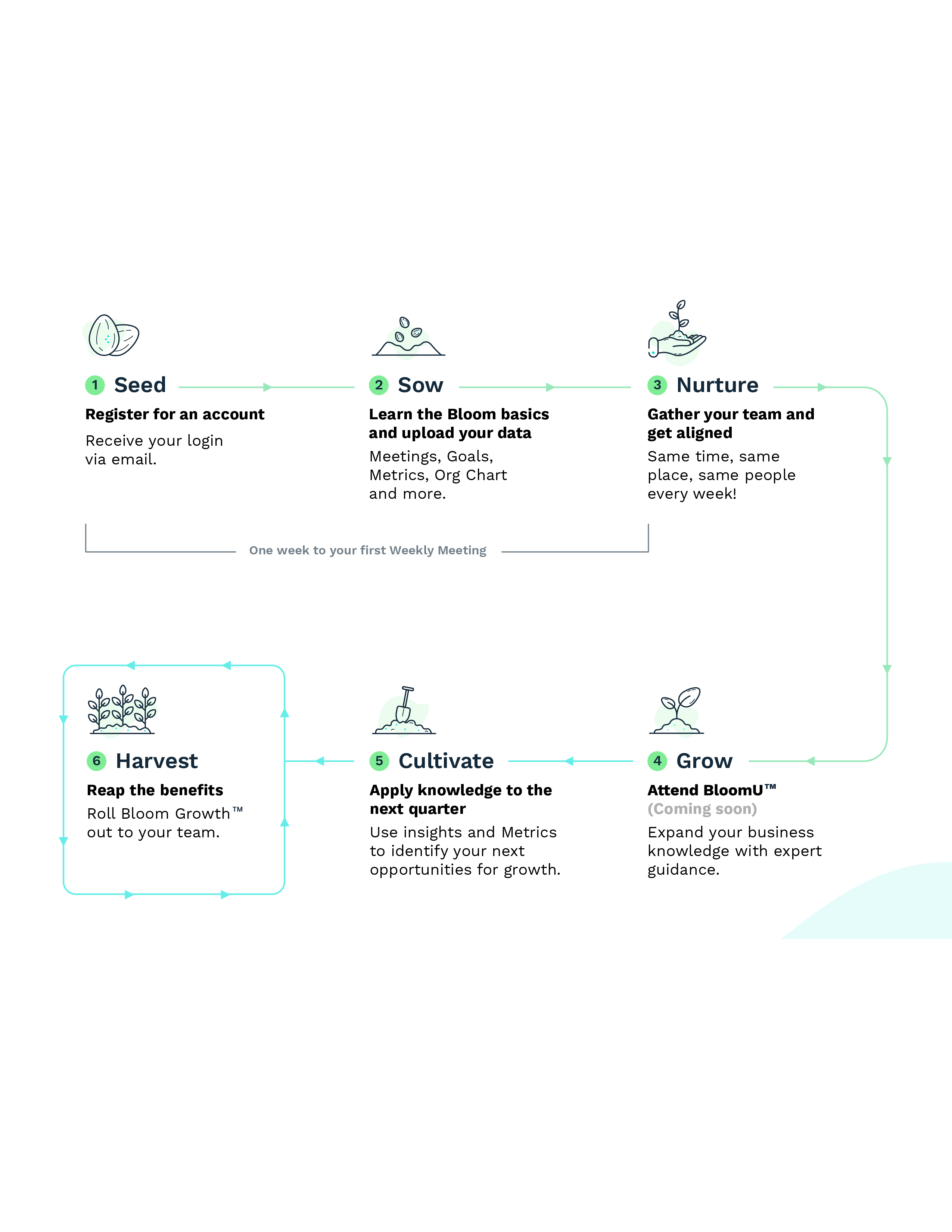 Our people help your people implement the proven process.
Bloom's meeting management software is a robust tool—solving transparency issues through org charts and business plans and optimizing your weekly meetings through custom agendas, goals, KPIs/metrics, and more. But more than that—our people differentiate us the most.
We don't expect your team to make this transition on their own. Instead, our teams are dedicated to helping guide your people every step of the way. Our data entry team will champion uploading your data. Even if your data isn't organized well, we can work with it—including napkins or tons of sticky notes (real story.) Our sales and support team will help customize your account and make sure that your team is setup to run your first meeting.
If you hit a snag or encounter an issue—you'll be met with a team that really cares and is determined to find a solution. When your people win—we win.
Ready to enhance your growth strategy with Bloom?